Personalized Children's Book - A Unique Personalised Story Book - Speech Blubs
$29.99
Regular price
$49.99

FREE DELIVERY - Get it between -
Customer Reviews
I love these books
I love these books! Great customer service! When I was having shipping issues. They got back to me so fast and let me know they're doing all that they can which they did. Made me feel heard. They apologized for their mistake and corrected it. This was worth the purchase and I will definitely be ordering again! Love love love!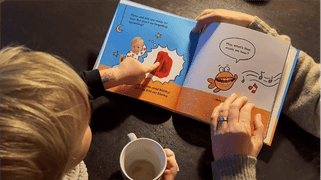 Absolutely amazing
Absolutely amazing. The best personalised book i have ever seen
I gave a book to 3 boys
I gave a book to 3 boys... all loved them!
📚Uniquely personalized books to help with the speech development of your child! 📚
We collaborate with leading Speech and Language Pathologists to structure stories that encourage speech development, love of reading, and build confidence in your little hero!
⭐️ UNIQUELY PERSONALIZED BOOK - Speech Blubs- "Finding the blanky" is a dazzling personalized story where your child is the hero of the story.
👶 A TIMELESS MEMORY - Watch your child realize the story is all about THEM. Watch their faces spark with joy when they see their name and picture inside a wonderful story filled with adventure.
🤹‍♀️ THE STORY - Losing your blanket can be such a stressful event. In our story your child goes on an adventure to find his blanky - he/she meets various animals, travels spaces, and makes some great friends and memories on the way!
🥳 PERFECT FOR ALL OCCASIONS! - A personalized book is a gift for every occasion. It's perfect for birthdays, Christmas, and everything in between.
📚 SIZE & QUALITY - Our hardcover books are printed on thick, high-quality paper and each book is 7.8 x 7.8 inches. 
✅ Perfect for Speech Development 
⭐ Enhance your little one's speech development with our personalized book
⭐ Encourage them to repeat after you while reading
⭐️ Improve pronunciation
"Kids are more engaged and willing to read, learn, and interact when they see themselves in a book. They always use their imagination when playing, but here they are actually the heroes of the story!"
✅ FREE SHIPPING
✅ 30-Day Money Back Guaranteed
✅ Made in the US
✅ High-Quality Printing
✅ Hardcover Edition
✅ Fast Delivery