Montessori Wooden STEM Sorting Box
$49.99
Regular price
$99.98

FREE DELIVERY - Get it between -
Customer Reviews
Such a great developmental toy!
While we really not fans of having what feels like hundreds of toys around a house, we are all for developmental toys and those that we can spend time playing together with our son. This is a great learning activity! Great advantage is that it is a wooden toy and we feel safe having more non-toxic toys around our baby. It is well made: no sharp edges, all surfaces are smooth and coloring is vibrant. Pieces are good sizes so we feel safe leaving it around our almost 1yo baby.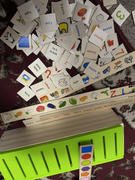 Great educational toy
I am glad I got it for my 3yo. She loves all the little wooden tiles and sorting them.
Nice one
My kid like this one
Ilustrativo y fácil de manipular
Muy ilustrativo y llamativo
💡 Putting the focus on child's early development greatly increases their chances of success in school and later on in life!
🧸 Perfect toy for early development
🧸 Teach your child counting and sorting skills
🧸 Learn color recognition and hand-eye coordination
🧸 Enhance your little one's memory and improve fine motor skills
🧸 8 boards with 80 little wooden blocks included. Tons of ways to play
🧸 Perfect travel toy - play at home, backyard, in a car and hotel, etc.
✅ Perfect for Speech Development
⭐ Enhance your little one 's speech development with this toy
⭐ Encourage them to name the things on the flashcards while you are playing
⭐️ Ask questions: "What is on this flashcard?" "What color is the lemon?" "What shapes are on this one?"
⭐️ Improve pronunciation
✅ Guaranteed wooden quality, perfect for ages 2-4
🧩 Montessori Wooden STEM Sorting Box is made of non-toxic wooden material. A solid design that is safe for kids. Fully tested and certified according to the ASTM standards for toy safety.
🧩 This Montessori toy is suitable for toddlers ages 2-4. A perfect learning resource for every child!
Gift your child with a quality toy that will challenge him, stimulate development, and nurture his motor skills!
🚛 FREE Shipping within the US!
🔙 30-day Money back guarantee
🎁 Special pre-Christmas SALE price!